Production Cost: Glass Stone Beads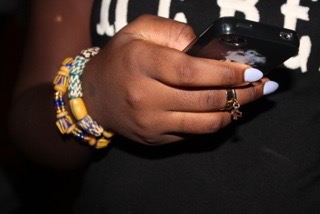 Production Cost: STONE BEADS
Hey There! I'm doing a noncredit certified online course on Fashion Industry Essentials at The New School Parsons which teamed up with the Teen Vogue. What's exciting about this course was being challenged to be creative and to come up with unique accessory that we never thought would be possible and learning about "production costs" and why is it important to know about the cost and profit of any business. I made an Glass Stone Bracelet using beads that are traditional Ghanaian creation made from glass which is broken down into fine powder and molded. Majority of these beads come from Ashanti and Krobo tribe in Ghana. Using 7 pieces of glass stone beads and 14 pieces of recycled glass beads, I used 10ft out of 50ft white stretch cord and attach one bead at a time in a repented patterned direction and tied at the end to hold in place. I was given the task to calculate my total production cost and profit and also to find out the estimated retail price, which can be done by asking a friend to tell me what would they pay for the item that I have made.
So, here is the table to describe whats been used for my Glass Stone Bracelet.
The table shows the list of prices for the items that I used for making the bracelet. I multiplied the amount of time it took me to finish making the bracelet (.2 hour) by the amount I expect to be paid per hour if I worked for retail store, which is my total wage expected. Therefore the total cost is all the materials cost plus the wage, $30.54. I assumed that I would be making 20% profit by selling the bracelet. Therefore I multiplied the total production cost by 20% to find out my total profit, $58.62. My total cost plus profit is higher than my expected wage of $11. However the estimated retail price which I have found by asking a fashion forward friend what she thinks this item can be sold at a price of $12.00. Therefore every time I sell each of this necklace would give me a profit of $6.08 !
Here is the picture of my edgy necklace made of glass stone bracelet! I would also love to know your estimated retail price you would like to pay for this bracelet.
What I learned from "Understanding Fashion Production" is the most crucial part of any business whether it is small or a big one. Without learning about fashion business production it would not be easier to get knowledge of the retail sector of fashion industry.
If any of my readers are just as interested in #fashion, #fashionbusiness and #production process of fashion or taking a course with parsons x teen vogue click here and enroll now and use code "JJYKEXZV6YX3" for $50 OFF!